Reach Out to Learn and Serve
Vision – To ignite the passion for learning
Mission – Learning through integrating with the community
Education Philosophy – We foster children's natural curiosity to learn through exploration and discovery.
Our story
Learning Hands Preschool provides the opportunity for a head start learning that will develop better future leaders.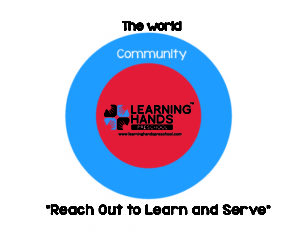 The inception of Learning Hands Preschool was out of passion from the founder's desire and believe that the success of education is not just to provide the 3 Rs (Writing, Reading and Arithmetic) but it goes beyond the academic.
Before any learning could take place, it is in the educators' hands to ignite the passion in the little children to learn. With this belief, the Learning Hands preschool has structured it's whole concept from the vision to the curriculum to facilitate children to learn within the classrooms and beyond the walls with the community.
The ultimate goal of Learning Hands Preschool is to develop boys and girls to become future men and women leaders who will lead with positive moral and social behaviour and with a conscience to sustain the environment around them for the community living in this global world.
Learning Hands Preschool believes in reaching out to learn and to serve. It is for learning to take place and the end result is to serve the world
Our uniform
The Colour of the uniform
RED – The Passion for learning
BLUE – Vast Knowledge